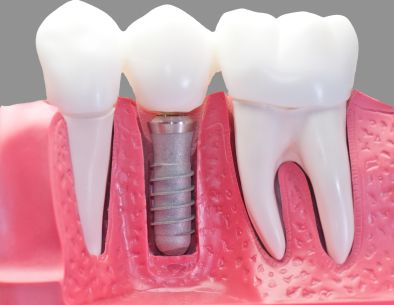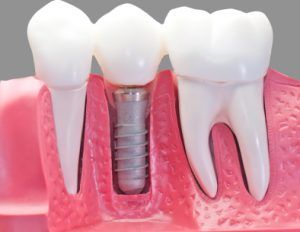 Dental Implants
Missing teeth? Restorative dentistry is one of the most important elements of a dentist's work. We want you to look and feel your best, and we want to ensure that your oral health is at its peak. When a tooth is lost, dental implants are one method dentists can use to restore proper oral function.
Here at WestSide Dental, we're proud to offer top quality dental implants in Winnipeg that will keep our patients happy and healthy. Our dental implants mimic the look and feel of real teeth, they're long lasting, and they're easy to care for. Missing a tooth and looking for a complete restoration? Dental implants might be a good fit. Get in touch with us for a consultation!
What are Dental Implants?
Your teeth can be divided into many different parts, but for our purposes we'll focus on two – the crown and the root. The crown of the tooth is the part above the gum, while the root is found below the gum, and is anchored by the jaw. The chief challenge when replacing lost teeth is finding a way to anchor them. Various dental prosthetics will use different methods of anchoring; many simply use nearby healthy teeth as anchors.
Dental implants are a bit different. Instead of using your other teeth as anchors, an anchor is implanted (hence the name) into your jaw. This anchor is made of titanium. Why do we use titanium anchors? The answer can be found in a process known as osseointegration.
Osseointegration means that your jawbone will effectively fuse with the titanium rod. In other words, the rod can act as a replacement for the root because it becomes fully integrated with the jaw. Dental Implants are prosthetics that best emulate real teeth – there's a very real root that grows into place.
You can't, of course, be chewing with nothing but a titanium rod, so once the dental implant is fully integrated we're going to attach an abutment to it. This is a small post upon which we'll attach an artificial yet natural tooth.
Who Can Get Dental Implants?
Dental implants are best for patients who have very good oral health. In order to ensure that the dental implant is successful, you need healthy gums and a healthy jawbone. Gum infections and other oral health problems like bone loss, tooth loss, and bone deterioration can compromise these facets of your mouth. When there isn't enough jawbone to complete an implant, we may advise you to get a bone graft. Otherwise, we might suggest another method of replacing your lost tooth (or teeth).
How to Care for Dental Implants
Dental implants can be cared for much like regular teeth; that's one of their biggest advantages. You'll need to be cautious of developing gum disease around the implant, just like with any other tooth. In addition, the artificial tooth can develop fractures because of teeth grinding and other pressures. Brush twice a day, floss once a day, and use toothpastes that are relatively low in abrasives. No whitening toothpastes for implants!
Your winnipeg mb Appointment
At WestSide Dental, we're committed to ensuring you get the highest quality dental care in Winnipeg. What does that mean? First, it means we're going to address any of your concerns before we begin a procedure. Patients who have dental anxiety should let us know before their appointment; we have a number of techniques we can use in order to help alleviate your anxiety.
Dental Implants generally take a number of appointments – assessments of your oral health to determine if implants are viable, followed by the placement of the dental implant itself. That's followed by the placement of the abutment, then the artificial tooth. We'll be there for you through every step of the process, and if you have any questions between appointments you can always get in touch with us.
We're here to restore your smile and your oral health. Whether that's through an dental implant or other prosthetics, we'll do a full evaluation and come to a solution that works for your particular need. Get in touch with us today, and you'll be looking and feeling your best in no time! We offer dental implants Winnipeg can rely on for natural teeth. Do you need a replacement tooth or even replacement teeth? Try a dental implant procedure! See "Winnipeg dentist" for our other services.
Dental Implants are not to be confused with Dentures or Dental Veneers