Your Friendly Charleswood Dentists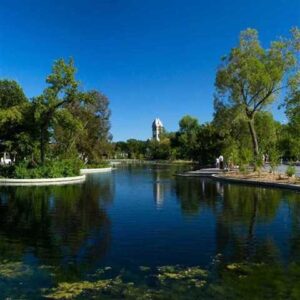 Our WestSide Dental Clinic is located in the heart of the Charleswood area. Our professional dentists believe that dental work doesn't need to be a negative experience. We work hard to create a positive and comfortable environment for all of our patients!
Our experienced dentists use modern techniques to ensure that our patients receive excellent restorative, hygienic, and/or cosmetic treatments.
We prioritize patient care and top-notch service. 
At our state-of-the-art facility, our dentists provide high-end dental services. We look after the oral care needs of patients from all age groups, from seniors to children.  
Charleswood Neighbourhood
Charleswood combines the convenience of a city with the picturesque appeal of a rural area. There are so many attractions in this neighbourhood for families and friends to visit. Take the Assiniboine Park & Forest for example, where you'll find unique wildlife and preserved hiking trails. When you see what Charleswood has to offer, you can't help but smile! 
We're proud to offer comprehensive dental care that can meet all your oral health needs. Here are some of the services that we provide to our patients at WestSide Dental Centre in Charleswood: 
We only get so many natural teeth in our lives—with restorative dentistry, we can save a tooth that may have otherwise been lost to decay. Examples of these services include:
Fillings.

Who of us

hasn't

had a cavity in our lives? Our Charleswood dentists have years of experience with restoring teeth and colour matching fillings to fit your smile.
Root canals.

We remove any injuries or infections affecting a tooth's blood and nerve supply. Then, we thoroughly clean the area and seal it for protection.
Crowns.

When you need a large filling, crowns can protect your teeth and prevent future decay.
Extractions.

We strive to provide thorough, yet gentle, extractions to alleviate any pain a decayed tooth may be causing. 
Regular cleanings.

Our hygienists are adept at removing plaque and calculus to promote healthy teeth and gums.
Bridges.

We can fill in gaps from missing teeth using a bridge to restore the unity of your smile.
Dentures.

Are you interested in partial or full dentures? By coordinating with a dental laboratory, we can design a set that perfectly fits your mouth and your lifestyle.  

 
Our comprehensive restoration services allow you to live your life to the fullest, without experiencing dental pain or any embarrassment about your smile! 
Not all dental issues are visible at a glance. Using digital dental cameras, we can create an enlarged view of small crevices in the mouth. This allows us to identify problems that may be missed otherwise and create an appropriate treatment plan. Our patients can even see the image themselves on the monitor! 
Many children deal with a fear of the dentist. At WestSide Dental Clinic, we're proud to offer kid-friendly dental services. This includes pulp therapy, which can save a tooth that's impacted by trauma or decay. 
Guiding children through the process can help ease their dental anxiety. We make sure to explain our services in words that kids can understand. Our hygienists focus on the positives, but we are honest with your child when they can expect some discomfort.
A few techniques we use for children's anxiety include:
Passive & active distractions
Topical anaesthetic for needles
With our dentistry services, we help your baby or child maintain healthy teeth that can last a lifetime. 
Dental anxiety may prevent many adults from visiting the dentist, despite the pain and difficulties they might be experiencing. It feeds into a negative cycle: the patient avoids the dentist due to their fear, but then their oral health issues get worse, which only creates more anxiety.
We practice sedation dentistry so that our patients can feel relaxed at our clinic. Maintaining your oral health can prevent serious problems from developing, which can ease a patient's anxiety about their teeth. Our dentists offer 3 different types of sedation, so you can choose one that you're most comfortable with.
Visiting the dentist doesn't need to be stressful. With our sedation dentistry techniques, you can look forward to your next visit! 
Did you know that when you're missing teeth, you have more options than getting dentures? That's right—we can install a dental implant to replace a missing tooth. It will look, feel, and function just like a natural tooth!
The process takes place over several appointments. First, we use a titanium rod to anchor the artificial tooth into your jaw bone. Once the osseointegration process is complete, we can place an abutment and artificial tooth. Call us today to schedule an assessment, and we can determine if you're a good candidate for a dental implant. 
Even though freezing is useful for filling cavities, not all patients appreciate that their faces remain frozen for hours afterward! But with microabrasion, we can remove decayed material without numbing your mouth. We use high-pressure particles to clear the tooth and prepare it for the filling.  
Whether you need a routine cleaning or a restoration service, our Charleswood dentists are always happy to meet with you and discuss your treatment options! 
Languages We Service
If your family member does not speak English or prefers to use another language, we can accommodate them. Are you looking for a dentist who you can communicate accurately with? Our care team speaks the following languages:
We're passionate about making your experience at our Charleswood Dental Centre as pleasant as possible. Part of that is allowing our patients to communicate in a language that they feel comfortable with. At WestSide Dental, with our experienced multilingual team of dental hygienists, your check-up will be as painless as can be.
Are you looking for a family dentist in Charleswood? Whether you need a routine cleaning or extensive dental work, we're here to help! Give us a call today and let us take care of your oral health.